About Us / Our Mission
We are a two person production team from the Midwest who started out as wedding videographers many years ago. We have since branched out to cover every avenue of video production. We excel at covering live events and know well the need of capturing the moment, but once that is done, the work has just begun. It is our editing skills along with top notch graphics that keep our clients returning. And it doesn't stop there. Delivery is a major, often overlooked, aspect of video production. With hundreds of different possible formats we can make sure you get the one you need. Covering all areas ourselves such as development, camera, sound, lighting, switching, directing, effects, editing, and having our own in house equipment makes us a versatile team ready for anything. When bringing your project all the way from conception to presentation we don't lose sight.
Our mission is simple:
Quality!
Vision4Films has worked with:

MTV
HSN (Home Shopping Network)
Comcast Sports
VH1 Classics
ESPN
Dobson Entertainment
DYI Channel
E Entertainment


Social Places
Visit some of our other sites.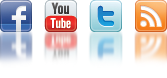 News and Events
The Latest
6 Aug | 0 comments
August
Tour of Elk Grove..
12 Sep | 0 comments
September
HSN in Tampa Florida...